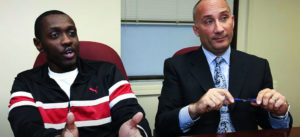 The City of Philadelphia this month quietly settled for $750,000 a malicious-prosecution lawsuit brought by a West Philadelphia man who spent four years in jail waiting to be tried for a 2009 double murder of which he was acquitted in 2013.
The settlement Oct. 6 ended the case brought by Nafis Pinkney, now 28, against two homicide detectives, James Pitts and Ohmarr Jenkins, who he claimed roughed him up and coerced him to give a false confession. Remaining unsolved are the murders of Nakeisha Finks and Jonathan Pitts, her boyfriend and Pinkney's close friend, who was not related to the detective.
Three years after Pinkney was cleared in the slayings of Jonathan Pitts, 21, and Finks, 20, another man, James Barrow, walked into a police station and confessed to killing them, as well as to an unrelated slaying a week earlier and, with an accomplice, robbing at gunpoint three West Philadelphia restaurants in 2015.
With Barrow's videorecorded confession in hand, the Philadelphia District Attorney' Office in 2016 quickly charged Barrow with everything to which he confessed — except the double slayings. In an article about the case in the Inquirer and Daily News last year, Pinkney's attorneys questioned whether the District Attorney's Office had not charged Barrow because it had already charged the wrong man, and due to the pending lawsuit.
With the resolution of the lawsuit, those lawyers said Monday, the office now should charge Barrow.
"It's glaringly obvious that the city has tactically chosen to delay charging Barrow. It's unfathomable that he would not be charged now," said attorney Gregory Pagano. "It's an easy decision now, and I would hope the city will make that decision."
Homicide Capt. John Ryan, who began his assignment in July, on Monday said he needed more time to learn the status of his office's investigation of Barrow. Cameron Kline, a spokesman for the District Attorney's Office, declined to comment on whether Barrow would be charged in the double slaying.
Barrow, 31, has been arrested at least 12 times since he turned 18. In his confession, he told detectives a chilling tale of how, in the early morning of Aug. 29, 2009, he broke into the home on Delancey Street in West Philadelphia of Jonathan Pitts, whom police described as a low-level drug dealer. In a second-floor bedroom, Pitts' and Finks' eyes were covered, their wrists and ankles were duct-taped together, and each was shot in the back of the head.
Five days earlier, a mile and a half away, Kamara Joseph, also described by police as a low-level drug dealer, was found bound with duct tape and shot in the back of his head in his home in the 2500 block of Shields Street. Barrow confessed to killing Joseph and is awaiting a capital-murder trial. Barrow told detectives he used the same gun to kill the couple and Joseph, a confession that has been corroborated by ballistic evidence.
"Barrow is a real-life psychopath killer, based upon my investigation and personal assessment," Pagano said. "The manner and means of his methods of executing these three people is frightening."
In the hours after the bodies of Jonathan Pitts and Finks were discovered, Pinkney voluntarily spoke to Detectives Pitts and Jenkins. During his 2013 trial, Pinkney testified that 24 hours of coercion, assaults, and being fed information by the detectives led him to falsely confess that he, a cousin, and a friend had conspired to burglarize Jonathan Pitts' home to steal drug money, and that the two other men carried out the executions.
Police never arrested the two men whom Pinkney named as co-conspirators because no evidence linked them to the crimes. Prosecutors also had no forensic evidence to link Pinkney to the slayings.
"This case provides the criminal justice system with a watershed moment for meaningful reform. This is an important opportunity for police, prosecutors, and judges in Philadelphia to re-examine preconceived notions about police interrogations and confessions," said attorney Paul Hetznecker, who also represented Pinkney in his lawsuit against the detectives.
"It is well beyond the time for the criminal justice system in this city to carefully scrutinize the methods of interrogation used to obtain confessions," Hetznecker said. "The cost to those individual lives is devastating, as is the resulting loss of faith by the general public in the criminal justice system."
Andrew Richman, chief of staff to City Solicitor Sozi Pedro Tulante, declined to discuss the reasons why the city decided to settle Pinkney's lawsuit rather than go to trial. "The settlement was in the best interest of the city," he said, adding: "We do not admit any wrongdoing."
Besides Pinkney, at least two other people from whom Detectives Pitts and Jenkins obtained murder confessions have been exonerated — one in 2012 by a jury, the other in 2011 when the District Attorney's Office dropped charges after a judge ruled the defendant's confession statement was "the product of psychological coercion."