MURDER – HOMICIDE – ASSAULT CASES
Results are what you expect when you hire an attorney. Results are a complete or partial victory, results are your freedom, family, money, or whatever justice dictates. We get results for our clients. Our verdicts, settlements and victories on behalf of our clients are not mere unsubstantiated words but proven facts. We get results because we work tirelessly, investigate thoroughly and research extensively. We meet with our clients endlessly until we know your case inside and out. We get results because we are experienced, we are well known in the legal community and we know how to get your case successfully resolved.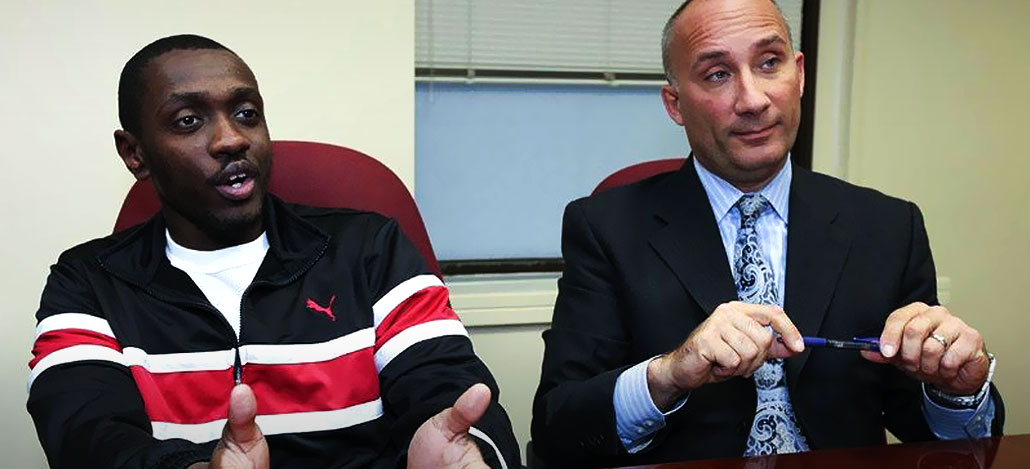 Nafis Pinkney acquitted by a jury of double murder based on defense of false confession.
Assault cases come in many forms; from simple assaults were there is merely bodily injury to aggravated assaults were there is serious bodily injury or injury to police or injury with a deadly weapon to attempted murder all the way up to the most serious crime – premeditated and deliberate murder or first degree murder – or involuntary manslaughter, voluntary manslaughter, third degree murder or second degree murder – and homicide by vehicle.  Prosecutors are known to charge murder generally in the initial stages of litigation.  As the case progresses, discovery becomes available and as the defense conducts its investigation, facts and circumstances come to the surface that help to mitigate the charge or perhaps provide a complete defense to the charges. 
Self-defense, defense of others or sometimes defense of property, is a complete defense to simple assault, aggravated assault, attempted murder, and even first degree murder/murder one/premeditated murder.  Men and women are permitted to protect themselves against an initial aggressor and need not retreat especially in their home, place of business, etc. 
It is vitally important to employ the services of an attorney as early as possible if you think you may be charged with – or even a witness to – homicide, attempted murder, assault, or assault or homicide by vehicle. Employing an attorney when you discover that the police are interested in speaking to you (or before if possible) is essential.  The protection of your rights at the earliest possible point is extremely important.  Often times people accused of homicide give statements.  This is typically due to the fact that homicide investigators are experienced and well trained in the art of interrogation.  They may also employ coercive tactics in an effort to extract statements from individuals.  Often their efforts work. 
Mr. Pagano has gotten statements suppressed in several homicide cases; Commonwealth v. Robert Harris, Commonwealth v. Treidy Colon and Commonwealth v. Tanya Williams.  In another case, Commonwealth v. Nafis Pinkney, detectives coerced a statement from the Defendant which was not suppressed.  The statement was introduced into evidence and read to the jury.  However, Mr. Pinkney was found not guilty and he was acquitted of all charges and released after being in prison awaiting trial for four years. 
The law does not permit police, detectives or homicide investigators to hold citizens – suspects or witnesses – for prolonged periods of time, incommunicado, without basic essentials such as food, a bed or bathroom, in an effort to obtain statement.  Pre- arrest delay for purposes of obtaining a statement is illegal.  In some cases the police have probable cause to arrest, detain and even charge a suspect with homicide.  In such cases, the law requires the police to charge such persons promptly. 
In 15-20 % of wrongful conviction cases – where DNA conclusively proves that an innocent person was convicted – the innocent Defendant gave a confession to police.  Obviously, innocent people are arrested, innocent people confess to crimes they did not commit; innocent people are convicted and punished for crimes they did not commit.  Innocent people may confess to police for a variety of different reasons.
The early collection of evidence and investigation on your behalf could be the difference between being charged or not, or a conviction and acquittal.  Mr. Pagano has represented people investigated for murder who are ultimately not charged with any offense as a result of evidence collected, investigative efforts or sound legal advice. 
A murder case can be dismissed before trial due to a prosecutor's misapplication – and a Judge's misapplication – of evidentiary rules.  In the case of Commonwealth v. Terrance Burton, the charges were dismissed after a Municipal Court judge held the case for trial after a preliminary hearing pursuant to a motion to quash.  The prosecutor attempted to bring the case to trial on the basis of a dying declaration.  A motion to dismiss the case was filed on the grounds that the dying declaration did not fall within the hearsay exception and was not legally admissible.  All charges were dismissed.
Each case has unique evidence and circumstances that must be thoroughly reviewed and analyzed by the Law Office of Gregory J. Pagano in order to advise you on how to proceed with the defense of your case. No matter what the circumstances of your case, the Law Office of Gregory J. Pagano will provide personal attention and work tirelessly to get you the results you need.
Testimonials
What Clients Say
"Thank you for bringing my son home Mr. Pagano." D. Pennington – 10/19 Not Guilty – Attempted Murder D. Pennington - 10/19 Not Guilty - Attempted Murder
"We hired Greg to handle a very scary and urgent situation that involved one of our children. Greg engaged immediately. We felt like we knew him and could trust him very quickly . . . he was "all in" totally vested in the outcome. Greg is passionate, smart and responsive." Anonymous – 5/17 Case Dismissed – Robbery Motor Vehicle (Carjacking) Anonymous - 5/17 Case Dismissed - Robbery Motor Vehicle (Carjacking)
"Mr. Pagano won my double murder case and then got me $750,000.00." Nafis Pinkney – 2/18 Not Guilty – Murder Case. Nafis Pinkney - 2/18 Not Guilty - Murder Case.
"Greg insisted on hiring a ballistician, and the results were in my favor, but the prosecution still persisted . . . was relentless in pursuing the true story of the incident . . . Greg was fantastic and never wavered in pursuit of a fair outcome for me. I am very grateful to him and his fine staf... John P. – 3/18 Case Dismissed – Discharge of Firearm at Police. John P. - 3/18 Case Dismissed - Discharge of Firearm at Police.
"Greg is very good at what he does which is practicing law. His team is very professional and caring for ensuring and working on your cases and being very communicating with you through all the process." Mike – 5/18 Mike - 5/18
"Thankfully I was found not guilty, but it wouldn't have been so without the excellent litigation skills of Mr. Pagano." Mike – 8/18 Not Guilty – Assault and Burglary Mike - 8/18 Not Guilty - Assault and Burglary
"I had a very difficult case which I thought was difficult to win. I was found not guilty." Anonymous – 11/18 Anonymous - 11/18
"He and his staff worked very hard for our family. He is an excellent attorney." YE – 11/18 NOT GUILTY – Murder Case YE - 11/18 NOT GUILTY - Murder Case
"Mr. Pagano (Greg), is an OUTSTANDING, UPSTANDING and DETERMINED attorney." Lisa M. – 12/18 Case Dismissed – Drugs and Guns Lisa M. - 12/18 Case Dismissed - Drugs and Guns
"Greg, and his assistant Sarah provided my son with excellent legal representation. You can use any lawyer but its clear Greg is head and shoulders above his peers. His reputation in the courthouse and his professionalism carries a lot of weight in his dealings with the DA'S. He used his skill t... AT – 12/18 Case Dismissed. Aggravated Assault on Police. AT - 12/18 Case Dismissed. Aggravated Assault on Police.
Talk To A Lawyer
Enter Your Contact Details Below
Our firm provides the highest quality legal services - criminal, civil or family law - to individuals in Philadelphia, anywhere in Pennsylvania and New Jersey and any state in the country. Whether we are fighting for your liberty, your health, your family, your rights or your money, we fight to win.